Back Injuries Laws in Massachusetts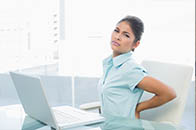 A back injury can greatly impact the quality of life for anyone. It can impact the victim's ability to do their job or other activities they once enjoyed. Back injuries can also get progressively worse and be very difficult to treat effectively. Whether a back injury has occurred on the job or from an accident caused by another, you may have questions and be concerned about your future. After you see a doctor and get the immediate medical treatment and assessment you need, you will want to contact the Law Office of Stephen M. Forlizzi to find out if we can help you get the compensation you need.
The attorneys at our firm has over 30 years of experience and will pursue every option and law that may apply to your case. We have helped thousands of clients and we understand how difficult the recovery process can be. We have represented clients who have suffered a back injury at work due to faulty equipment or workplace accidents. Our firm has fought for compensation for those injured due to someone else's negligence in maintaining their establishment. We have also helped victims who have injured their back in a car, truck, or motorcycle accident. Our level of experience and knowledge of Massachusetts back injury laws makes us the best choice to help you get the compensation you need.
What We Will Do For You
After consulting with you to understand the facts of your case during a free consultation, we will help you decide the best course of action. Our firm will work with you to build a strong case based on the evidence and facts we find. You may have ongoing medical bills to contend with, lost wages, and rehabilitative costs. We take the time to explore your individual needs so we have an assessment of what the back injury has actually cost you and will cost you in the future. We have the negotiating skills and experience to deal with insurers who may try to get you to settle for less than you need. If your back injury happened at work, we can help you deal with the mountain of paperwork to ensure your workers' compensation claim is handled correctly.
From the first step of reaching out to our office until your case is resolved, we will be there every step of the way. Your back injury case will get the personal attention needed and we will by your side throughout the entire process.