Catastrophic Injury Laws in Massachusetts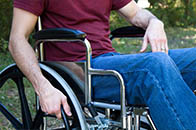 The Law Firm of Stephen M. Forlizzi in Massachusetts fights for victims suffering from a catastrophic injury. There are times when accident injuries reach a level beyond what is considered common or manageable. These are referred to as catastrophic injuries. A catastrophic injury is life-changing and there is often long term consequences for the victim to bear. There may be extensive and on-going medical treatments, lifelong pain management, rehabilitation needs, permanent disability, or worse. If you have suffered a catastrophic injury due to the recklessness, negligence, or inattentiveness of another, we may be able to help.
The Law Firm of Stephen M. Forlizzi can determine if your injury meets the criteria of being considered catastrophic.
Types of Catastrophic Injuries
Some of the most common catastrophic injuries we have helped victims win compensation for include:
Burns
Brain injury
Paralysis
Loss of limb or senses
Internal organ damage
Resources: Massachusetts Injury Statistics
What Our Firm Can Do For You
The Law Firm of Stephen M. Forlizzi understands the financial and personal devastation a catastrophic injury can cause. An injury of this magnitude can affect your ability to ever work again and can alter your entire family dynamic. There is too much at stake to not contact an experienced and aggressive injury attorney who will fight to get you the compensation you need. Our firm will investigate the accident, line up medical experts who will explain what the accident has done to your life, and keep you informed every step of the way. We know the details of a catastrophic injury case can be complex and difficult for you and your family to relive. This is why we also strive to resolve your case as quickly as possible. Our firm will give you a free consultation to assess what we may be able to do for you. Our contingency fee arrangement will ensure that our legal fee is contingent upon getting you a financial recovery for your injuries.
Our 30 years of experience and our ability to give your case the individual attention it deserves can mean the difference between continued suffering and getting the compensation you need to recover. Let our firm protect your rights as you focus on recovery and moving beyond your catastrophic injury. Call us today to see if we may be able to help you get through this difficult time. For a Free Consultation Contact us at 978-739-4898.